Smoothies and Smoothie Bowls are all the rage. On the surface, smoothies are one of the easiest meals/snacks to prepare in my opinion. However, when you throw in special diets, picky eaters, or food allergies, it can get a little complicated.
Today we're going to break down smoothie basics so you can have an idea of how to pair items that are safe for you. We'll also cover ingredients, leftovers, and flavor profiles. At the end of this article you'll find two delicious smoothie recipes.
Fruits That Work Well In Smoothies
Here's the great news: just about every fruit can work well in a smoothie. More than anything, it's important to pair fruits well. Try to avoid flavors that clash when paired together such as pineapple and plum. While pairings will be subjective to personal taste, keep this in mind when serving a picky eater.
Related Recipe: Star Smoothie
Vegetables That Work Well In Smoothies
The key to incorporating vegetables in your smoothie, especially where children are concerned, is to use vegetables that are mild in taste. If you want to include greens, spinach is an excellent choice for kids, as compared to kale. That's not to say that kids won't enjoy kale, but it's something to keep in mind if your kiddo is in the picky eating phase.
We like to freeze vegetables to add to smoothies. This reduces the amount of ice you need to add, prevents the smoothie from becoming super watery, and adds the extra benefits of vegetables. Our favorite is zucchini.
Related Recipe: Sun Butter Bliss Smoothie
I purchase organic zucchini in bulk and slice them into 1 inch thick pieces, place them in a freezer baggie, then freeze. When making smoothies, we use several ounces of our frozen goodness. We've also tried this with cauliflower, but the kids said the taste was too present. That's the benefit to using zucchini – the mild flavor. Be careful not to go overboard as it can cause a bitter aftertaste in large/unbalanced amounts.
I've seen others use frozen cauliflower and frozen broccoli in smoothies, but our kids just aren't there.
Nuts and Seeds That Work Well In Smoothies
When using nuts in smoothies, it's important to remember that some nuts have a much more distinct flavor than others. If you're looking for what pairs well together, look at snack/energy bars for examples.
Hazelnut for example has a lot of depth and pairs very well with chocolate and banana. I wouldn't suggest pairing it with a tropical flavor profile.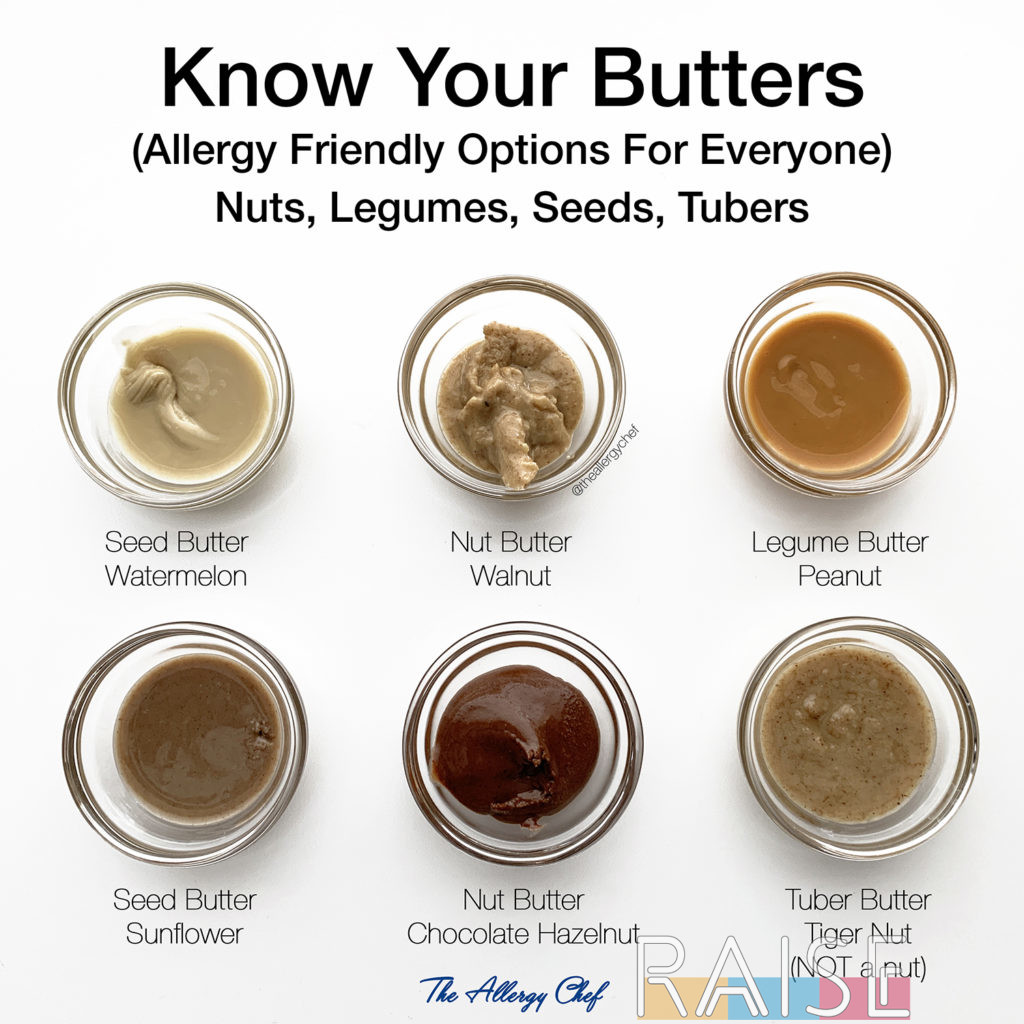 Related Article: Spreads/Butters
Cashews are the super-nut in the nut category. They add an amazing amount of creaminess and thickness to a smoothie. If you go a bit overboard, you'll end up in a more "solid dessert with bite" space rather than a smoothie.
Almonds are another excellent choice, as they have a bit of a bland flavor. If you're struggling with certain GI issues, soaked and sprouted nuts may be a better option for you.
Protein Powder For Smoothies
Currently, our favorite protein powder is Zego Pure Protein. This is because it's a single ingredient option, and super allergy friendly. The Zego Pure Protein is made from sacha inchi seeds only.
There are a lot of other protein options on the market, but I've found the more ingredients there are, the more chances for cross contamination via raw materials. I'm also not a fan of protein isolates, and honestly, there's way too much pea protein in everything these days.
When selecting a protein powder, look for clean options that don't contain a lot of fillers. Also select something that will complement the food you're already serving.
Before Adding a Protein Powder, Confirm That It's Necessary
We live in a world where buzz words are always flying at us. Check the RDA for protein based on your gender and weight before adding a supplement. Most people are surprised to learn that they (and their kids) are doing A-OK in the protein department.
If you're serving a child or adult that's struggling with GI issues, (lack of) weight gain, etc. be sure to work with a professional to make sure all of the needs are being met. You also want to avoid going overboard on protein, as too much can stress some systems.
On a side note, 1 tablespoon of a healthy fat, such as avocado oil or tiger nut oil (not a nut) is an excellent addition to a smoothie made for someone who needs to gain weight.
Which Sweeteners To Use In Your Smoothie
Some would argue that smoothies don't require any sweeteners at all. Depending on the ingredients you use, I'd tend to agree. Smoothies that are heavy on (sweet) fruit content should omit sweeteners. A great example is apple. Apples are very sweet and don't require the extra boost.
Tart and citrus fruits however can register as almost bitter or sour, especially in large amounts. Select a sweetener you're comfortable with and/or a sweetener allowed on your specific diet type.
When To Use Ice and/or Milk In Your Smoothie
The general formula for making a smoothie with a god texture is to blend liquid and solids together. The more solids, the thicker the texture. Here's the catch: for a thicker texture, the solids need to be frozen.
Think of a banana. It's a solid. However, when room temperature, it will become a liquid in your smoothie. When it's a frozen, it will become an ice substitute and a creamy delicious addition to your smoothie.
You should use ice in your smoothie when you want to make the drink colder, add thickness, or improve texture.
You should add milk to your smoothie when you don't have enough non-frozen goods to make/become enough liquid in your smoothie. You'll know this is an issue because your blender will really struggle to mix your drink.
Some smoothies call for yogurt, and that's a great addition to smoothies as well.
Can I Use Water In My Smoothie?
Yes! You can absolutely use water in your smoothie. This should only be done in a pinch, or if you don't have any safe milk to choose from. Both dairy and non-dairy milks work wonderfully in smoothies.
Before we had a NutraMilk to make my safe milk, I had to use water in smoothies. They turned out OK, but take a little getting use to. In the end, you'll have to use what's safe and available to you.
Best Blender For Making Smoothies
There are four options on the market that I personally feel are awesome for making smoothies. Each one requires some investment, however, you'll be able to use them for more than just smoothie making. If you live with (or serve someone with) food allergies, kitchen investments are so worth it.
The NutraMilk
In addition to making dairy free milk, you can purchase the smoothie attachment for the base and have smoothies as well. What I like about this over a Vitamix is the sheer power. The Vitamix can get bogged down with thicker smoothies whilst The NutraMilk keeps chugging along.
Vitamix
We've had a Vitamix for years, and it's a bit of a love-hate relationship. While we do have an older unit, I've found that the Vitamix struggles with thick smoothies. Around here, we love a good thick smoothie because it's like eating ice cream. With that in mind, the Vitamix isn't always able to meet our needs.
Blendtec
A lot of our friends have these and they work really well. It's a solid name with a good reputation. My understanding is it's less expensive than a Vitamix. The newer models have lots of fancy buttons, and I'm genuinely considering one in the near future.
Bullet/Individual Containers
We have a few friends who have a small blender base that connects to a cup/container that's a perfect individual serving. Whilst it's not the strongest of the bunch, it's wonderful for small spaces and single people.
It's also a great option if you're managing several allergy profiles, and need each person to have their own blender.
Blueberry Spinach Smoothie Recipe
13 ounces Milk of Choice
8 ounces Organic Blueberries, Frozen
2 small Organic Bananas (about 5 ounces)
1.5 – 4 ounces Organic Maple Syrup (you can use less)
2 ounces Organic Spinach (about 2 handfuls)
Banana Zucchini Smoothie "Milkshake" Recipe
10 ounces Milk of Choice
8 ounces Ice Cubes
7 ounces Organic Zucchini Slices, Frozen (you can use less)
4 small Organic Bananas (about 10 ounces)
3 ounces Organic Maple Syrup
3/4 tsp Organic Vanilla Extract
Pinch Sea Salt
For Each Recipe…
For each of these, add all of the ingredients to your blender and combine until smooth. When making any smoothie, always place your non-frozen goods in the blender first, so they become a liquid that the frozen items can blend into easily.
Additional Resources
We hope you enjoyed all of these smoothie details. If you're needing more support, consider joining RAISE today. RAISE offers recipes, allergy seminars, safe product guides, and much more. We also have six cookbooks to help you on your journey.