We are SO EXCITED to announce the launch of our Gluten Free Food Guide!! To celebrate, let's talk about cookies. Gluten free cookies seem to be available at just about every grocery store these days. Anything you can't find locally you can purchase on Amazon, or through a company's website. However, have you stopped to think about if your gluten free cookies were made on shared equipment with wheat?
We take the stance that anything made on shared equipment with an ingredient is not truly free from said ingredient. Once you understand just how tiny 10 parts per million is, you'll quickly see why we take that stance.
But I See The Certified Gluten Free Logo on Everything
What may be a bit misleading is that items certified gluten free are allowed to be made on equipment that also processes wheat. While they do have cleaning standards and testing in place, it's all too easy for a little to slip thru the cracks. It's also not uncommon for particles of some food types (think chocolate) to be more difficult to remove from machinery.
Additionally, not every company tests every single batch. One company that was left out of the guide was so incredibly diligent. They have third party testing and in-house testing for every single batch of their product. It's certified gluten free and made on shared equipment with wheat. Another company (also made on shared equipment with wheat) told us they test randomly every 3 months. It's also certified gluten free.
That's a HUGE difference in testing… It just goes to show that getting in touch with companies is truly the only way to know how safe your food is.
Oh The Phone Calls We Made
Over the past several months we called over 400 companies to investigate the allergy status of their products. Some companies were super shady, and others were mega transparent. We were sure to thank everyone who was forthcoming, and especially those who flat out told us not to eat the product.
The Gluten Free Guide (FREE for all RAISE Members) can be purchased by clicking here. In the guide you'll find a whole page of just gluten free cookies, all made on equipment free from wheat.
Here's What Really Shocked Me
Everything. Like most gluten free buyers, I allowed the certified GF logo(s) to lull me into a state of trust. When you see just how many BIG brands aren't in the Gluten Free Guide, you'll do a double take.
For some of you, the trace amounts won't be an issue at all. For others, it's a total deal breaker. You'll have to purchase as you see fit. In our home, we no longer purchase any food made on shared equipment with wheat or dairy, which is just about everything… Not even exaggerating.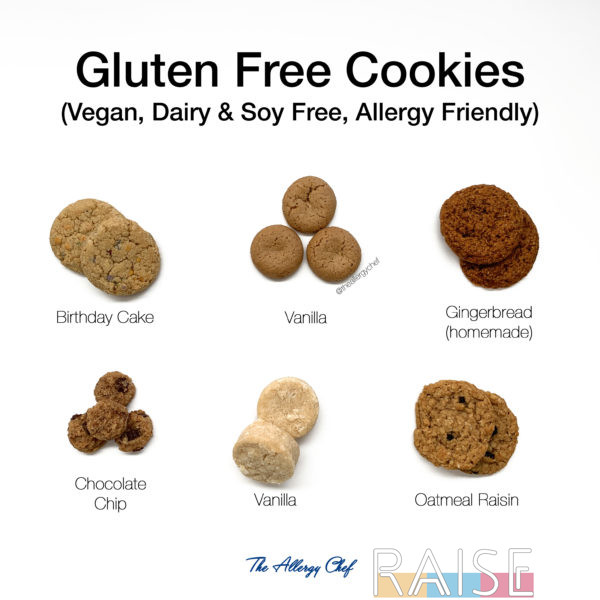 What you see in the photo are just some of the cookies included in the Gluten Free Guide:
Partake Foods Birthday Cake Cookies (the kids LOVE them, read their review here)**
Home Free Treats Vanilla Cookies
Homemade Gingerbread Cookies (recipe here)**
Made Good Foods Chocolate Chip Cookies (they make a range of products)**
Emmy's Vanilla Cookies (these cookies come in lots of flavors)
Cybele's Oatmeal Raisin Cookies**
** Indicates a top 8 allergy free product from top 8 free equipment
What We Love About The Cookies in the Photo
Several of the companies produce their products in top 8 allergy free facilities. For those of you who are more than gluten free, this is a BIG plus. For some of you, homemade may be the only safe option, and we've got you covered with delicious cookie recipes.
Features of the Gluten Free Guide:
Over 120 Gluten Free Products, all made on wheat free equipment
Notes on Allergens on Equipment & Facility
Interactive Guide, All Products Have Clickable Links
Award Winning Gluten Free, Top 8 Allergy Free Chocolate Chip Cookie Recipe
Additional Resources For Celiac Disease and Food Allergies
Click here to purchase your Gluten Free Guide on our shopping website, freeandfriendlyfoods.com