Today I'm going to be sharing a range of ideas and resources with you on how to pack gluten free lunches, nut free lunches, and allergy friendly lunches. This info will make lunch packing a whole lot easier. For those who are managing a picky eater, it's important to pack foods they like, love, and are willing to eat. Lunch away from home isn't the time to focus on new food exposures, or stress over how many fruits and veg they've had. The foremost concern should simply be: will they eat this food?
To help make lunch packing easier, I can't recommend enough the LaLa Lunchbox App. It's available on Apple devices, and is free to download. You tell the app what's in the kitchen and your kids can then pack a lunch. This is a tool that helps with meal planning, independence, and even caters a bit to a picky eater. When kids are involved, they're a lot more likely to eat the food.
Lunch Boxes and Lunch Gear We Love
When the kids were little, reusable lunchboxes were not widely available. Had they been, it would have been my first choice. I'm happy to say that the kids picked out a reusable insulated bag each year with their favourite character/theme on it (Hello Kitty, Cars, Transformers, etc.). Brown paper bags also made an appearance when lunch boxes were lost.
For reusable lunch boxes, I really like the brands Planet Box and Yum Box. Each brand also sells tote bags, ice packs, inserts, and other cool accessories for the lunch box. When purchasing a reusable lunch box, my priority is making sure it's dishwasher safe. From there I look at leak proof options (or inserts) as well as ease of use for the kids.
Food picks and sandwich sticks are fun ways that you can make a lunch more approachable for your kids. The adorable giraffe food pick in the image below is a fun example.
Gluten-Free and Dairy Free Lunch Ideas
We've found that one of the most common diet types right now is gluten and dairy free. I have great news for you: EVERY RECIPE on our membership site, RAISE, is gluten and dairy free. I'm going to list a few ideas for you, but I'd love for you to take the Advanced Recipe Search for a spin.
Plug in all of your dietary restrictions, then select the lunch/dinner meal type. You'll be greeted with loads of gluten free and dairy free lunch ideas that you can start packing ASAP. You can also pick up a copy of our Lunch Box Cookbook which is 100% gluten and dairy free.
Here are a few lunches that I regularly pack for the kids: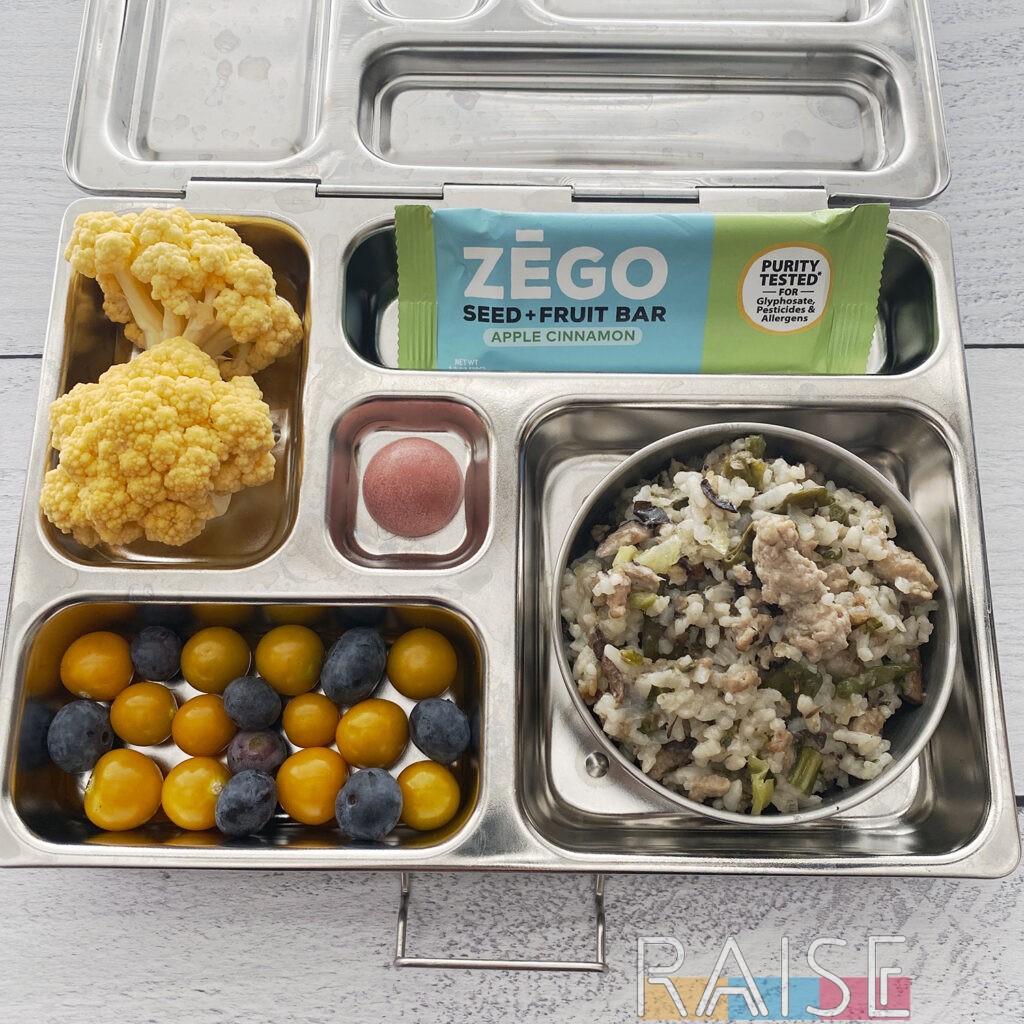 Allergy Free Lunch Recipes
I want to start by saying the term "allergy free" isn't the best way to describe a recipe. I've found a lot of people are looking for this, not realizing that anyone can be allergic to anything. What's allergy free for me may not be allergy free for you.
When talking about lunches, especially for school, it's better to use the term "top 8 free lunch". You could also say top 9 free, top 12 free, top 14 free, gluten free, vegan, paleo, or any other term more people will be familiar with. This makes communication much easier in the long run.
If you're in need of allergy friendly recipes (See what I did there? Swapped free for friendly), I have a few options for you. First, check out the Advanced Recipe Search on RAISE. You can mix and match more than 85 filters and see a wide range of allergy friendly lunch recipes that are perfect for lunches. We also have The Gluten Free Allergy Friendly Lunch Box cookbook you can purchase. If you're not a RAISE Member, you can click here for free lunch recipe download. There are five tasty lunch recipes to enjoy.
What Can I Put In My Lunch Box Instead of a Sandwich?
This is one of my favourite questions to answer! It's so easy for us as parents to get caught in the sandwich trap, but there's a whole world of other options out there. Here are some main food ideas you can rotate through to keep things interesting. Pair them with a range of sides and snacks.
With these 10 base ideas, you can easily have 3+ months worth of lunches to rotate through. You'd do this by changing up the flavour each time you serve something. For example, you'd have chicken pepper meatballs the first time, Chicago style meatballs the second time, bison meatballs the third time, and so on.
What Can I Pack for Lunch without Nuts?
There's a range of options you can pack for lunch whilst avoiding all tree nuts. Start with the main portion of the meal. It can be a lunch meat sandwich, pasta, tuna salad, or even cold leftovers. Then, add sides. Sides can be as simple as fresh produce or yogurt.
If you're looking for packaged snacks, there are plenty to choose from, including nut free granola bars. Be sure to read labels well. If you can't have food made on shared equipment with tree nuts, make sure you contact companies before purchasing their products. You can see some of the snacks we love in this article.

Can You Pack Peanut butter for School Lunches?
School lunches can contain peanut butter, as long as it's allowed by the school and/or your child's classroom. With the peanut allergy diagnosis on the rise in children, it's become common to see tree nut free and peanut free classrooms/schools. It's always best to check with your child's teacher.
If there is a child with an allergy in the classroom, know that the parent will appreciate your concern and effort to keep their kid safe. If it's your own child you're worried about, still communicate with the teacher to see if a peanut or tree nut free room is an option. Also be sure to discuss this during your 504 plan meeting.
Alternatives to peanut butter include seed-based butters, tree nut butters, soy butter, chickpea butter, and tiger nut butter. Interestingly, tiger nuts are NOT tree nuts, just poorly named tuber root vegetables.
What Snacks Are Nut free?
Produce will be nut free, as well as dried fruits. Dairy products such as cheese wheels and yogurt are also great options. If you're looking for more than just nut free (where allergens are concerned), look into Zego Foods, Blake's Seed Based, and Made Good Foods. Those are three of our favourite brands.
You can see more of our favourite free-from snack brands in this article.

What Do You Pack for a Quick Lunch?
Personally, I'd pack easy to make mains such as sandwiches, tortilla roll ups, yogurt + granola, and other simple meals. Another way to think about a quick lunch is to break it down into components. Do you have protein, produce, and a starch/grain? If you have these three items covered, there's a good chance you have a good meal in the making.
I find lunch boxes like the Planet Box Rover to really help with this. When you see the compartments, it makes it easier to not overthink the lunches.
My other two favourite things to pack for quick lunches are leftovers and food from the freezer (batch cooking). The waffle and muffin recipes on RAISE are awesome for this. I put a frozen waffle or muffin in the lunch, no ice needed, and by lunch time it's thawed and ready to enjoy.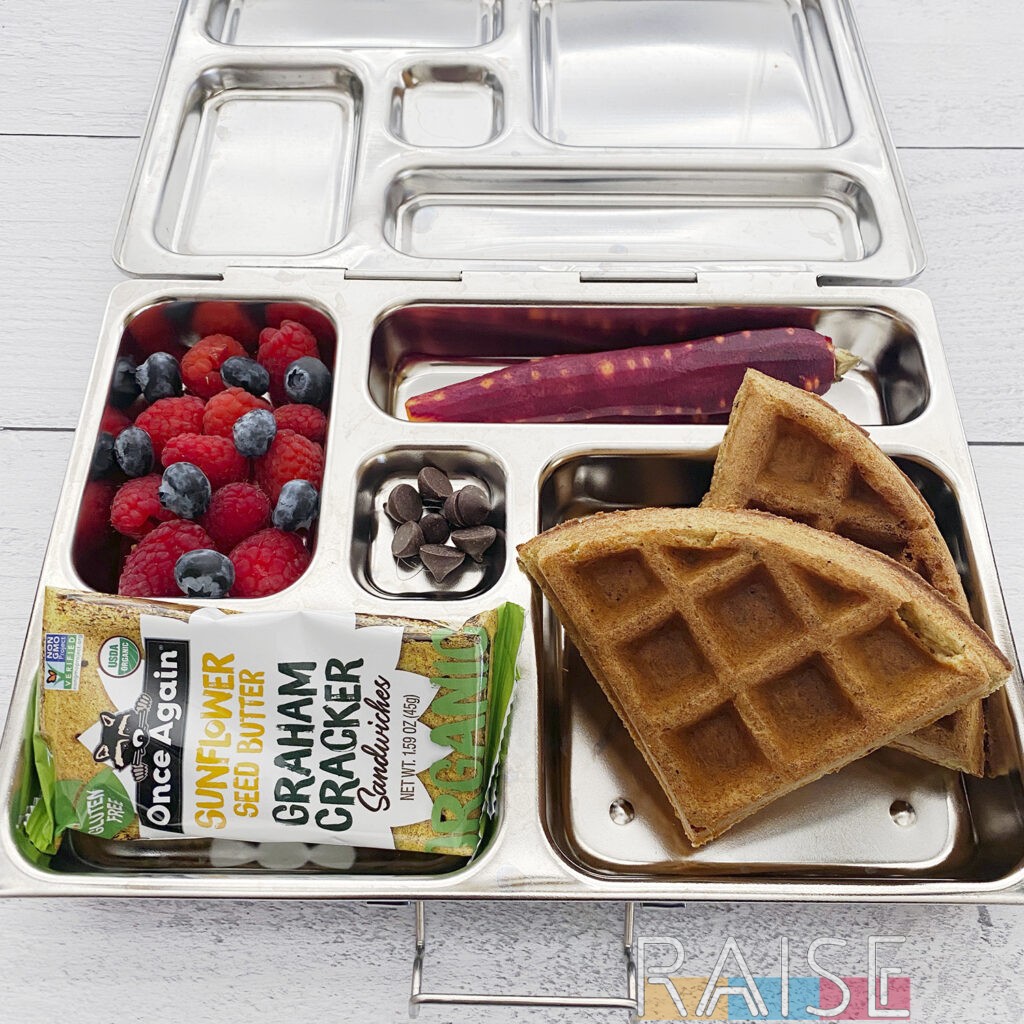 What Can I Pack My Lunch In?
Depending on WHAT you want to pack, you'll select the best box for yourself. For example, if I were packing hot foods, I'd be sure to select an insulated container. Thermos and OmieBox are two of our favourites. Personally, we used Thermos containers for our kids when they were growing up. The trick to making sure food stays hot is to pour boiling water into the Thermos and put the lid on top. Wait about a minute, pour out the water, then add the HOT food.
It's also important to note that you need to make sure your children can open and close the lids. You may need to practice with them before school starts, and try to not screw the lids on mega tight.
If I were packing something that didn't need hot temperature control, I'd probably use a reusable bento box. My personal favourite is the Planet Box Rover. Now, I have seen a new one that I'm dying to test out from Austin Baby Co. It's a silicone bento box with a leakproof lid and I'm looking forward to testing it out.
What Can I Have for Lunch That's Gluten free?
I want to start by saying this: ANYTHING can be served at lunch time. With that in mind, anything you normally enjoy can be served as a gluten free lunch. Some of our faves include:
What I'd like you to see is that with these six basic meals, I can create a huge range of flavour and variety. This leads to you being able to rotate through your options and not have to eat the same thing twice over the span of a MONTH.
With the shredded chicken, I like to serve it with a variety of sauces so no one gets bored. I also mix up how it's served: standalone, on a bed of lettuce, with pasta, with tortillas, with rice, and as a sandwich.
For taco boxes, you can change out the protein each time, and mix up the toppings a bit too. Pizza, pancakes, and waffles come in such a range of flavours that you'll find it hard to get bored of them.
With chili, we have a handful of recipes that the kids love (all freezer friendly), and I can serve a different variation each time. This article is a great read for more ideas.
Do They Make Gluten free Lunchables?
There are a couple of tiny brands that have made gluten free lunchable style products, but none have ever been widely available. However, I've found it's pretty easy to make your own at home.
Start with a bento box, preferably one with 4+ compartments. Then, add what you'd like. For our pizza lunchable, I like to add rice cakes, turkey pepperoni, dairy free cheese, and vegan ranch dressing. Don't forget a fun beverage and a small treat for an awesome childhood experience.
What Can I Have for Lunch without Bread?
If you don't like bready things in general, you'll want to lean into dips and sauces, in my opinion. Now, some people who don't like bready items are happy to have tortillas, crackers, chips, and rice cakes. In those cases it's usually all about the texture. If you fall into that category, be sure to include those types of ingredients.
Dips can be layered bean dips, spinach dip, pizza dip, and any other type of dip you might enjoy.
Taco and burrito bowls are also excellent bread free lunch ideas. Meatballs, chili, sloppy joe, ragu, and other meat sauces can really come in handy too.
Bun-less burgers would be another great option and you can make this vegan or meat-based. Don't forget about salads, too. You can make a traditional lettuce based salad, or have something like potato salad, tuna salad, chicken salad, chickpea salad, or egg salad.
All of these ideas should go on a lunch calendar so you can plan to rotate through them and avoid boredom. Be sure to change up the flavor profile each time so you have a larger rotation to work through. This article has more non-bready meal ideas for you to enjoy.
Additional Resources
If you're needing more help packing gluten free and allergy friendly lunches, you might enjoy our Food Allergy Help 101: Lunch mini eCourse. It's free to enroll and info is delivered via email. When you're in this course, you'll also receive a copy of our Lunch Visual Inspiration Guide.