If you're a free-from mom, can I just say, hats off to you! So many moms are investing countless hours into the next generation, but for some, the investment is even harder due to dietary restrictions. If you're in that group, I know how you feel, so let's make sure you're able to celebrate with your entire family this year.
If you're a family member or kiddo trying to make something special for mom, I'm so excited for you. Be sure to read through the article, but also click here to pick out one of our special Mother's Day Recipes so you can make one of the spreads at home.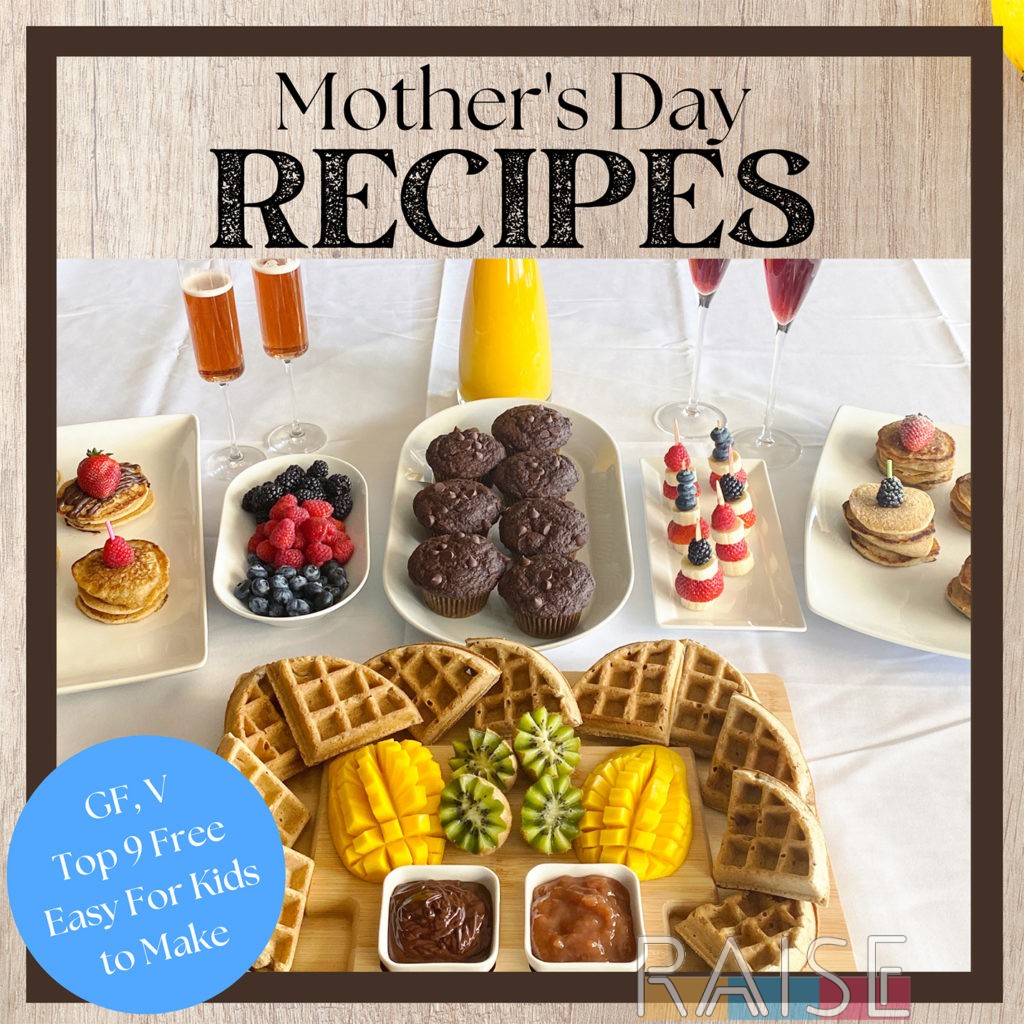 Click to Download Your Free Mother's Day Recipe Now
Before preparing a special meal for mom this year, be sure you understand what her dietary restrictions are, and if needed, all the restrictions of the household. The goal is to make one recipe that everyone can eat together. If you're dealing with a LOT of dietary restrictions, be sure to look through the Advanced Recipe Search on RAISE which has more than 85 filters for food allergies and special diets. That way, you're sure to find something that meets everyone's needs in one go.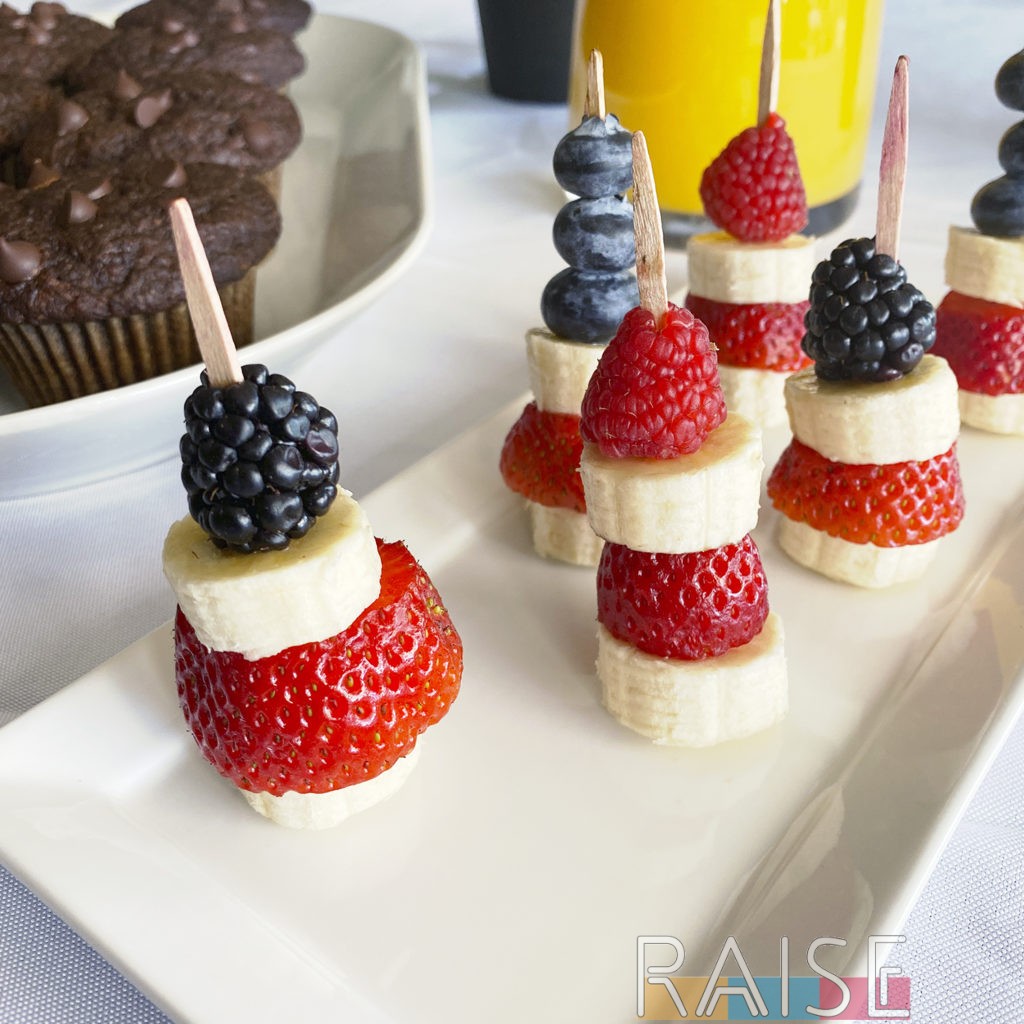 Allergy Friendly Mother's Day Brunch Recipes
THIS is what I'm so excited about!! Here are a few spreads that you can make with kiddos to help them celebrate mom this year. To make a spread like this come together, you'll need a main (click here to download one of the free recipes), a serving platter or two, and something nice to hold the beverage. Additionally, some fake plants (or real ones for those not allergic) can rally liven up a table.
If mom is a LEGO fan, you can purchase LEGO flowers, build them in advance, and have them waiting in a nice vase.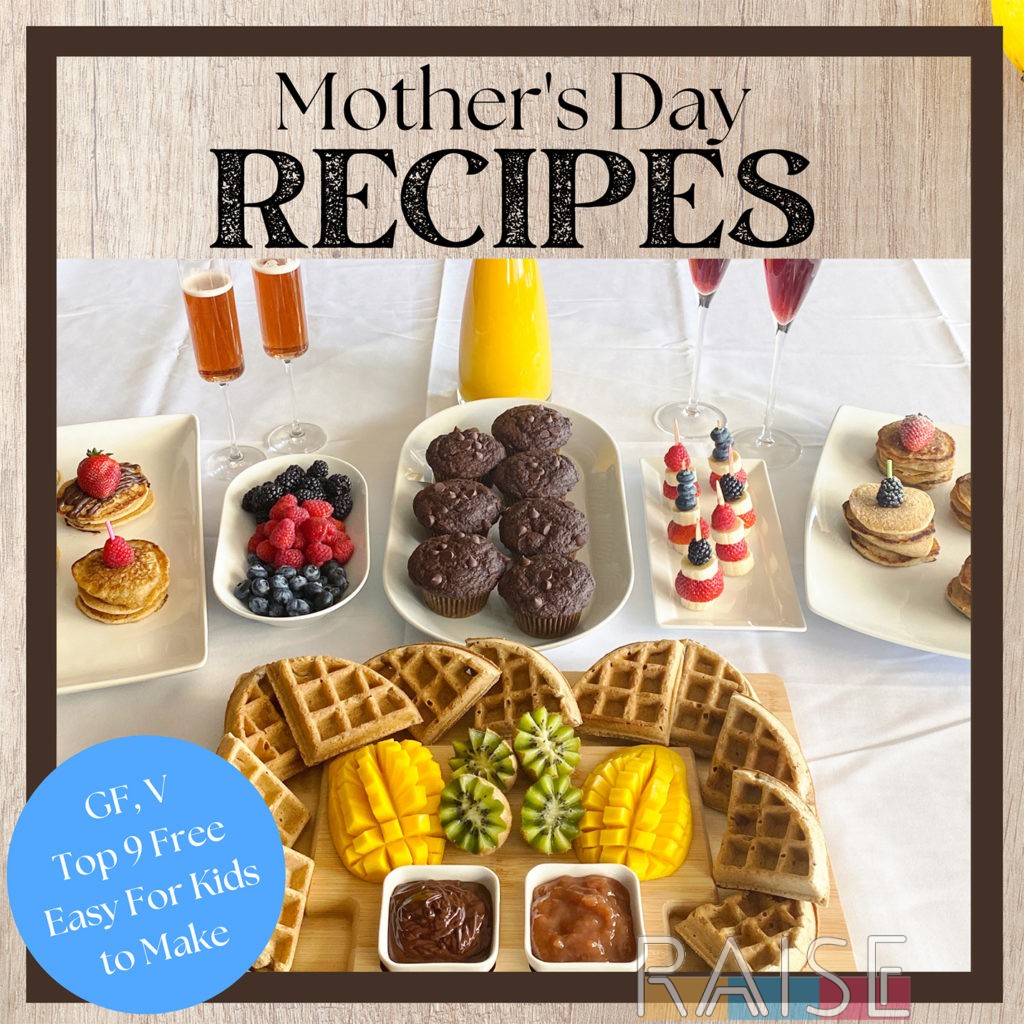 Click to download your free brunch recipe.
Gluten Free and Dairy Free Mother's Day Menu
For those in need of a (more full) menu that's both gluten free and dairy free, I have several tasty ideas for you. Here are a few simple menus you can make at home at different times of the day.
Mother's Day Breakfast Menu
Some moms enjoy something sweet for breakfast whilst others enjoy something on the savory side. No matter which way you go, don't forget to include mom's favourite beverage too. This might be coffee (black, with milk, iced, etc.), tea, water, or juice. You can jazz up mom's water with fresh fruit or cucumber and call it spa water 😉.
Sweet Breakfast: Vanilla Cake Baked Doughnuts, Scrambled Eggs, Oven Baked Sausage
Savory Breakfast: Apple Sausage Breakfast Salad, Toast & Jam
For The Coffee Lover: Coffee Waffles, Poached Eggs, Bacon
For The Taco Lover: Gluten Free Breakfast Tacos, Fruit & Veg Platter
Mother's Day Brunch Menu
If you're looking for a few fresh ideas outside of the typical pancakes and sausage breakfast, here are four recipes that can make your brunch a real hit. These are gluten free, egg free, nut free, and allergy friendly. Also, Kid Four says those spinach muffins are life.
Sweet Brunch: Gluten Free Chocolate Waffles, Roasted Root Veggies, Bacon
Savory Brunch: Top 8 Free Chicken Taco Bar (serve deconstructed and let everyone build their own taco)
For The Salmon Lover: Gluten Free Salmon Sheet Pan Recipe
For The Savory Muffin Lover: Gluten Free Spinach Chocolate Chip Muffins (loved by kids and adults)
Mother's Day Lunch Menu
Lunchtime may be the best time for your family to celebrate. This also means you might want a meal that's more filling. These are four meals we think mom will love, and they're also kid friendly too.
Vegan Mother's Day Lunch Menu: Mushroom Pasta, Fruit Platter
Chicken Mother's Day Lunch Menu: Easy Roasted Chicken Thighs & Veggies, Fruit Platter
Pork Mother's Day Lunch Menu: Pepperoni Pizza Dip, Noodles (tossed in dairy free butter), Roasted Veggies
Fish Mother's Day Lunch Menu: Salmon Cakes, Faux Tarter Sauce, Roasted Broccoli
Mother's Day Dinner Menu
For those who can't take mom out to a restaurant for dinner, bring the restaurant to her! Here are four super delicious dinners you can make at home that will taste like fine dining.
When spoiling mom at dinnertime, make sure to have kids help with nice place-settings, a table cloth, and maybe even the fancy beverage glasses.
Vegan Mother's Day Dinner Menu: Chickpea Mock-Tuna Lettuce Wraps, Fruit & Veg Platter
Chicken Mother's Day Dinner Menu: Coconut Free Lemongrass Chicken, Steamed Rice, Steamed Carrots
Pork Mother's Day Dinner Menu: Apple & Bacon BBQ Pizza, Steamed Veggies
Seafood Mother's Day Dinner Menu: Shrimp Fried Rice, Oven Roasted Veggies
Nut Free Mother's Day Recipes
Whether mom is nut free, or one of the kiddos is nut free, there are amazing recipes for the entire family to enjoy together. What's even better is that we've selected recipes that will be easy for kids to help make. In addition to the recipes below, all of the recipes in the above sections are nut free too. So, scroll back up if you need more ideas.
Six of our favourite nut free recipes (also gluten free, dairy free, and more):
Egg Free Mother's Day Recipes
So many moms manage children with an egg allergy. This year, you can make delicious egg free recipes together and surprise mom with something tasty. OK, well, maybe not surprise because she may need to help you figure out where things are in the kitchen.
If mom isn't a fan of lavender, she might like these Fluffy Rose Cookies or Classic Chocolate Chip Cookies instead.
Gluten Free Vegan Brunch Recipes
When selecting one of these recipes, think about other items you can serve to round out the table. For example, I might pick the savory swirls, creamy tomato pasta, and fruit platter. Alternatively, I might choose the banana bread, citrus cookies, and a fruit platter.
If you opt to put together a platter, get a fancy board and make some cute fruit.
Gluten Free Eggless Breakfast Ideas
If you're planning to stick with breakfast ideas this year and mom (or the household) needs gluten free and egg free, here are some amazing ideas to get you started.
If nothing here suits your fancy, check out the other 500+ recipes on RAISE, all of which are gluten free and egg free.
Gluten Free Vegan Breakfast Muffins
This is something we SO have you covered for. Not only are all of our muffin recipes on RAISE gluten free, they're also top 9 allergy free, vegan, egg free, dairy free, nut free, and more. We have a variety of options including muffins with a cake-crumb whilst others have a denser crumb.
Our Top 4 Muffin Picks For a Mother's Day Breakfast:
If you're not a RAISE Member and want just the muffins, click here to grab the Muffin Recipe Bundle pack.
Gluten Free, Dairy Free Egg Free Brunch Recipes
Did you know, RAISE has more than 500 recipes, and they're ALL gluten free, dairy free, and egg free?? It means that everything you've seen in this article so far would be a safe option for you if you manage one or all of those allergens. If you have additional restrictions, be sure to check out the Advanced Recipe Search which has more than 85 filters.
In addition to all the other recipes in this article, here are four more delicious brunch recipes you can enjoy:
Breakfast Ideas Without Eggs or Milk or Bread
You know, this is actually one of my favourite requests! There are a lot of adults who are low-carb for a variety of reasons, however, we've been asked about bread free options for kids who just don't like bread. Totally get it. Sometimes it's a texture issue and other times, commercial free-from options aren't a good fit for your family.
Keep in mind, for those who avoid bread due to taste and/or texture, chips, tortillas, and crackers are oftentimes a good substitution.
Need More Ideas For Mom?
Perhaps the mom in your life has additional dietary restrictions. Head over to the Advanced Recipe Search and make use of more than 85 filters for individual allergens, food families, special diets, and more. It's the most advanced and powerful search online for people with restricted diets.
We hope something here gets the ideas flowing on how you can celebrate this year. Be sure to pick recipes that kids can help make. Happy cooking and baking!!