Many people who need to follow an egg free diet often struggle with breakfast, and baking. A lot of us have been conditioned to think about eggs and pancakes as traditional breakfast items and when those are suddenly gone, it can feel very difficult to serve a variety of meals.
Today I'll be sharing egg free breakfast ideas with you, along with options that are gluten and egg free, 100% vegan, top 9 allergy free, truly corn free, paleo, and more.
I Can't Have Eggs! What Else is There to Eat for Breakfast?
Don't fret, there are still a lot of options for you! First, there are the basics: pancakes, waffles, and muffins. These can all be easily made egg free as well as gluten free, vegan, corn free, paleo, and even refined sugar free if you're dealing with multiple allergies. The key is to understand HOW to use egg replacers and WHEN to use them. More on that later.
RAISE has more than 500 recipes, all egg free, including recipes for everything listed above.
Now, if you're looking for a breakfast that's less carb-focused, here's the best thing I can tell you: ANYTHING can be served in the morning and called breakfast. If you eat last night's steak and potatoes in the morning, it's breakfast.
List of Easy Egg Free Breakfasts
I know some of you like lists, so here's one to bookmark. These are easy foods you can make in the mornings:
Oatmeal
Cream of Buckwheat
Toaster Pastries (Bobo's is Egg & Gluten Free)
Yogurt + Fruit
Granola + Yogurt
Breakfast Potatoes or Hash Browns
Sausage & Vegetables
Crepes + Your Fave Filling
Crispy Bacon Cookup (see examples here)
Breakfast Fried Rice
The best part about the list above: the versatility. You could take this list, make different flavour variations, and have about 3 months worth of breakfasts to rotate through.
Dairy and Egg Free Breakfast Ideas for Toddlers
There are so many things to feed your dairy free and egg free toddler. In fact, everything on the list above can be made egg and dairy free. If you're needing some visual inspiration, I have just the resource for you! RAISE has a Toddler Meal Inspiration Guide that's GF + EF + DF + Top 9 Free. If you're not a RAISE Member, you can purchase it here.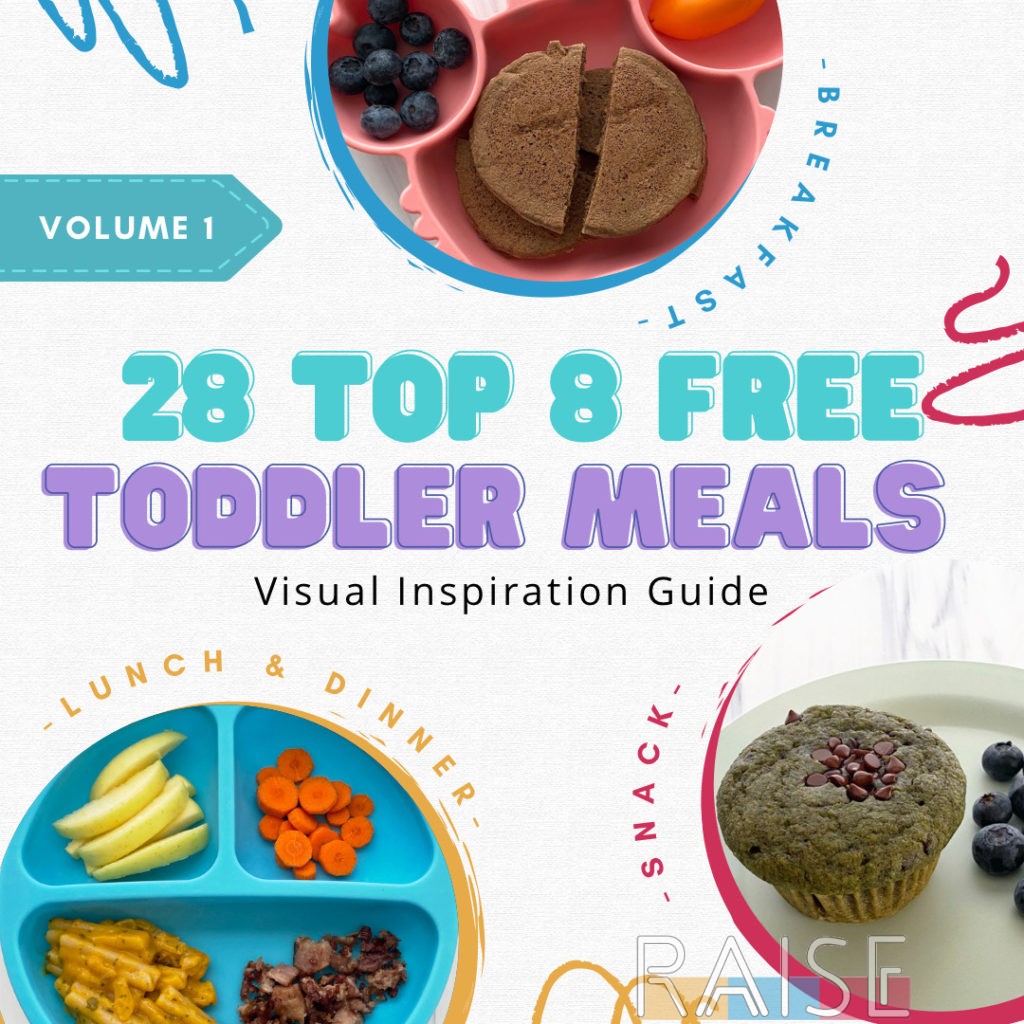 A basic recipe you can start with is our Fluffy Pancake Recipe in our Free Recipe section of RAISE. The pancakes are amazing and you'd never know they were made without milk or egg. You can also freeze them for future breakfasts.
When serving your egg and dairy free toddler, try not to overthink the meal. I think divided plates makes serving kiddos a lot easier on you, the parent. Use one compartment for protein, one for a starch, and one for produce. This essentially creates an easy formula for you to follow. Here are a few examples:
Egg Free Pancakes + Steamed Carrots + Bacon
Sausage Pieces + Egg Free Waffles + Strawberries
Kiwi + Crackers + Beans
You don't need to serve fully composed dishes to toddlers. You can also serve them a deconstructed version of whatever you're eating.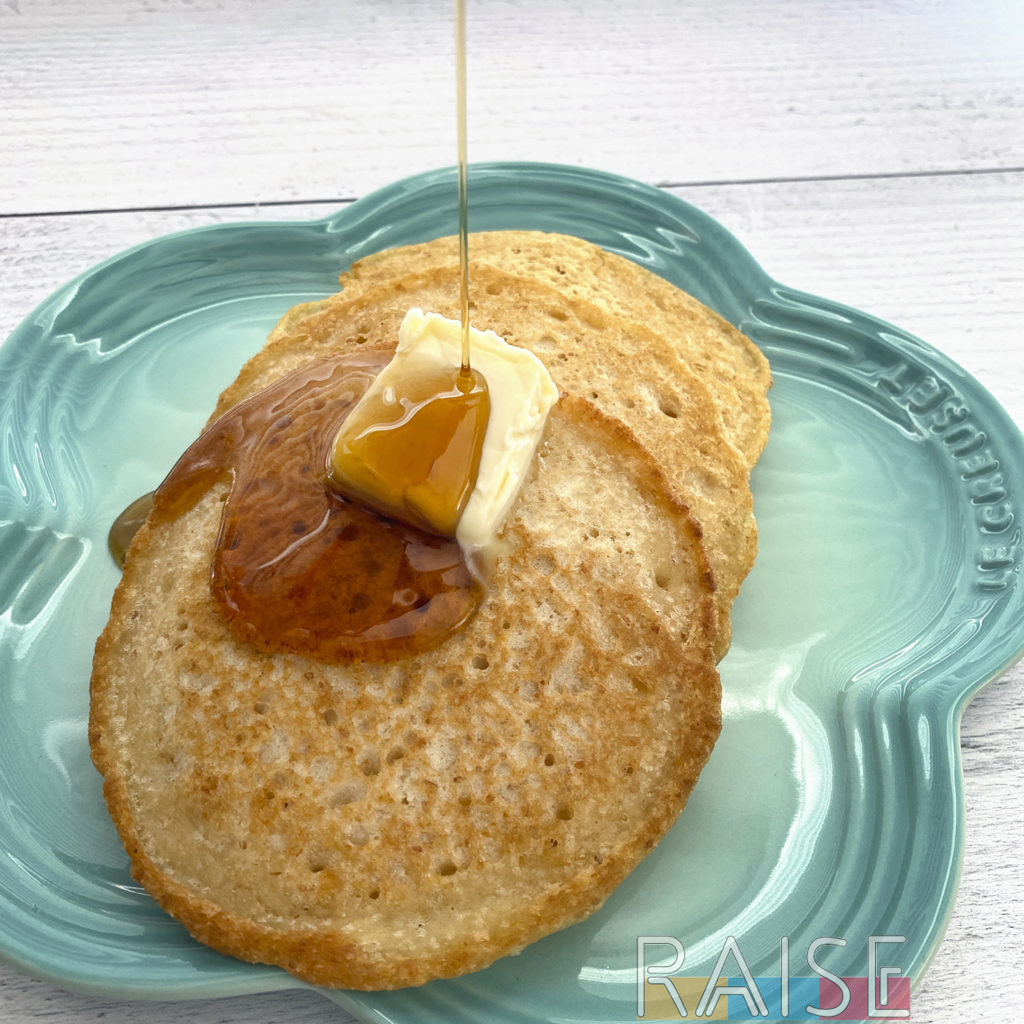 Savory Breakfast Without Eggs
For those who don't enjoy foods that are overly sweet in the mornings, or perhaps you're not in the mood for cereal, savory meals can still be enjoyed without eggs. Here are a few examples:
These are just four quick ideas to get you started. Remember, anything can be served in the morning. Maybe you'd like a cauliflower steak with homemade chimichurri sauce or reheated chicken parmesan. I mean, you could even heat up a safe-for-you frozen burrito or make taco boxes for breakfast.
More than anything, I'd encourage you to make sure you set aside enough time to make your savory breakfasts, as they can sometimes take longer to make than pancakes.
Egg Free Substitutes
Have you seen one of "those charts" online that tell you how to "replace" an egg? Interesting fact: I generally hate the charts that circulate online because 99% of the time, the authors don't tell you the CONTEXT, which is very necessary.
It's not uncommon for these charts to simply say "how to replace an egg" then show a picture of a banana, seeds, peanut butter, and a few other things.
Eggs can do 4 things in your recipes: lift, moisten, bind, and emulsify. If you don't take into account what the egg was supposed to do, then replace those functions, your recipe will fail.
Let's think about a soufflé. It has AMAZING lift, right? Now let's think about those charts… they say things like "use a mashed banana to replace an egg". Do you honestly think a banana is going to lift your soufflé??? Yeah, I didn't think so either.
How to Replace the Lift Function of an Egg
To get the lift in say a pancake, muffin, or waffle, you're going to need leavening agents. That's the easiest way to create lift. Baking powder and baking soda + acid will both do the trick. For even better lift, use all three. For the fluffiest of pancakes, mix by hand. An electric mixer will take out some of the air, which is what provides that desired fluff and lift.
Replacing the Binding Function of an Egg
Seeds are generally the easiest way to replace the binding function of an egg. If you think about baked goods that are mega crumbly, they're lacking a good binding agent to hold everything together. You can use flax meal to bind in most recipes. Whole seeds do not perform the same as the meal.
Chia seeds are a great binder, but their ratios are much different than flax. With chia, you can use the seeds or the meal and both will create a binding effect.
Psyllium husk is another great binding option that's also seed derived. To use any of these seeds, they're mixed with water to create a gel that then creates a binding effect in your recipe.
How to Keep Recipes Moist without Eggs
Generally, all liquids are going to help with this. However, now's when I need you to really take notes. Did you ever hear someone talk about adding mayo to cake as a kid? I did, and was totally repulsed by the thought. Do you know WHY they said this though?
Egg yolks, which are the base of mayo, along with oil, are rich and fatty. They have a super creamy mouthfeel, and lend their services to your baked goods. With egg free baking, you NEED oil. The oil is going to provide a rich creaminess that moistens the final product. Our award winning bakery uses this technique, and all of the bakery recipes are available for Platinum and Diamond RAISE Members. We had thousands of people fall in love with our GF + Top 9 Free baked goods. Even those who could have major allergens told us they would have never known the cupcakes were free-from if they hadn't been told. Talk about a compliment!
How to Emulsify without Eggs
I'm sure you've seen recipes that call for lecithin. Often times it's made from soy, and the soy free people get really upset because it's difficult for them to find convenience products. There's now a new wave of sunflower based lecithin products that are opening the products up to more people (while simultaneously causing people with sunflower and seed allergies to get upset).
In the case of those who can't use soy and sunflower, you have options such as guar gum and xanthan gum. Now, these aren't exactly designed to emulsify, but, can totally do this well. My personal choice for emulsification: manual mixing. That's right, it can be that simple. I also use hot water as an ingredient to help with the emulsification process.
My Thoughts on Commercial Egg Substitutes
I'm sure you've seen egg replacers in grocery stores, both liquid and powder options. My personal take: I'm not a fan. However, it may not be for the reason you're thinking.
I'm not a fan because of the ingredients used and/or the allergy status of the product and its raw materials. When I develop a recipe, I want as many people as possible to have access to it. Once you start adding commercial substitutes, many people can no longer make the recipe safely.
Whilst I have messed around with the JUST liquid egg, it's not something I'd use often. Plus, the kids say the texture on those types of products is correct, but the taste is all wrong.
Your Egg Free Breakfast Questions Answered
I think this may be one of my favourite things to do when writing articles: answering your questions. Here's what people are asking about egg free breakfasts.
What can I eat for breakfast that's not eggs?
Anything! Remember, you can serve anything in the morning that's edible and it's breakfast. You don't need eggs to have a complete meal. Be sure to look over the easy list of egg free breakfasts above for some good ideas, or check out the Advanced Recipe Search on RAISE. You'll find that all of the recipes are egg free, and you can use the breakfast filter.
How can I get protein for breakfast without eggs?
Outside of eggs, there are lots of other protein options available that you can eat at breakfast times. High-protein breakfast ingredients that will pack the most punch include:
Beef
Bison
Chicken
Pork
Lamb
Salmon & Other Seafood
Chickpeas, Beans, Lentils (Legumes)
Tree Nuts
Seeds
These ingredients can be prepared in a variety of ways to keep your mornings interesting. The kids love this homemade breakfast sausage recipe which is a great source of protein.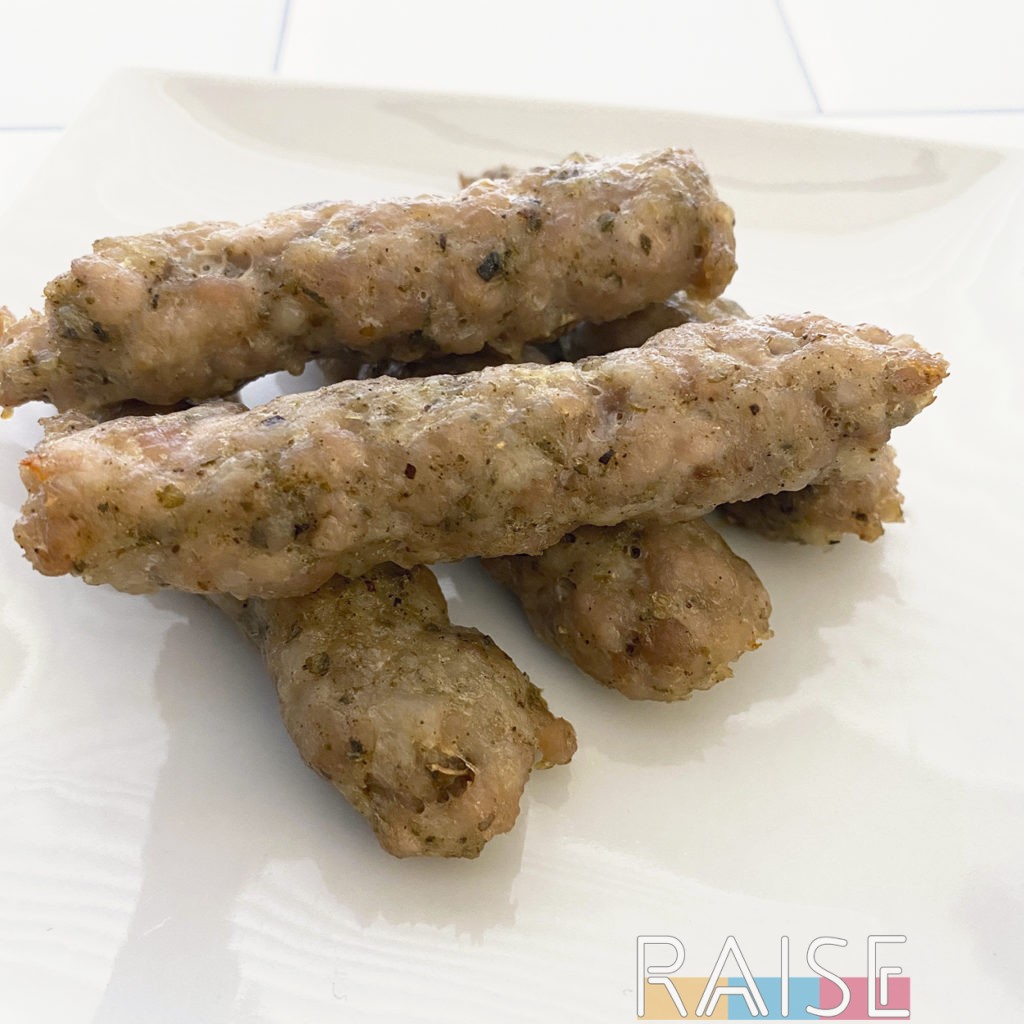 What can I substitute for Eggs in French Toast?
Can I let you in on a little secret? You don't need eggs to pull off French toast. In fact, you don't reaallllyyy need to replace them. The key is to make sure your milk (or dairy free milk) is seasoned well. You may need to thicken it a bit if your milk option is incredibly thin.
We have 2 egg free French toast recipes on RAISE. One that's Gluten Free + Top 9 Free and a version that's Truly Corn Free + Gluten Free + Top 9 Free. We also have a French Toast ice cream recipe. Oh! You HAVE to give the French Toast Crouton recipe a try!! It's all egg free, gluten free, and allergy friendly.
What can I Feed my Toddler with an Egg Allergy for Breakfast?
You can feed your toddler a wide range of foods. Refer to the easy list I shared earlier in this article. Many parents are hoping for things like pancakes, waffles, and muffins. We've got you covered. What's great about the recipes we share for those three items: they're all freezer friendly. This allows you to batch cook so you can pull out what you need each day. Essentially, it's homemade fast food.
If you're not a RAISE Member and would love muffin recipes, check out our Muffin Recipe Bundle. Each recipe is gluten free, egg free, and top 9 allergy free. If you are a RAISE Member, check out the muffin recipe collection, use the Advanced Recipe Search, or download the muffin eBook that comes with your membership.
The Grand Takeaway
What I really want you to remember is that ANYTHING can be served at breakfast time. When you free your mind and allow for non-traditional meals to be served, you'll find that meal times get much easier.
From there, it's replacing eggs in things like muffins and pancakes. Outside of that, the only thing you can't really make egg free is going to be soufflé, and maybe quiche. Though, companies like JUST would say their egg substitute could get the job done.
Be sure that you're not stressing yourself about an egg free breakfast. There are lots of cold items available to you including cereal, oatmeal, and guac + chips. Yes, you can have guac + chips for breakfast. Add some bacon and tomatoes and then you're really living the good life.
If you need more egg free ideas, take a look around RAISE, where all the recipes are egg free. Our Advanced Recipe Search is a great tool if you're managing a diet that's more than egg free. One last helpful resource before you go: Hidden Sources of Eggs.